Back in February, (hey, I said was overdue!)
Jessica
, Ethin's mom, worked with a local high school in Michigan and held a basketball game to raise money and awareness for CHD. Each of the boys on the team wore a shirt in memory or in honor of a heart child. D's shirt was worn by Kyle, who is a senior this year. From what Jessica said, the boys were really excited about playing for the kids and were very interested in their stories. What an awesome way to get young people involved
before
it's their child's heart they're learning about, right?
After the game, Jessica sent each of the children or their families the shirt from the game. D is very proud of his...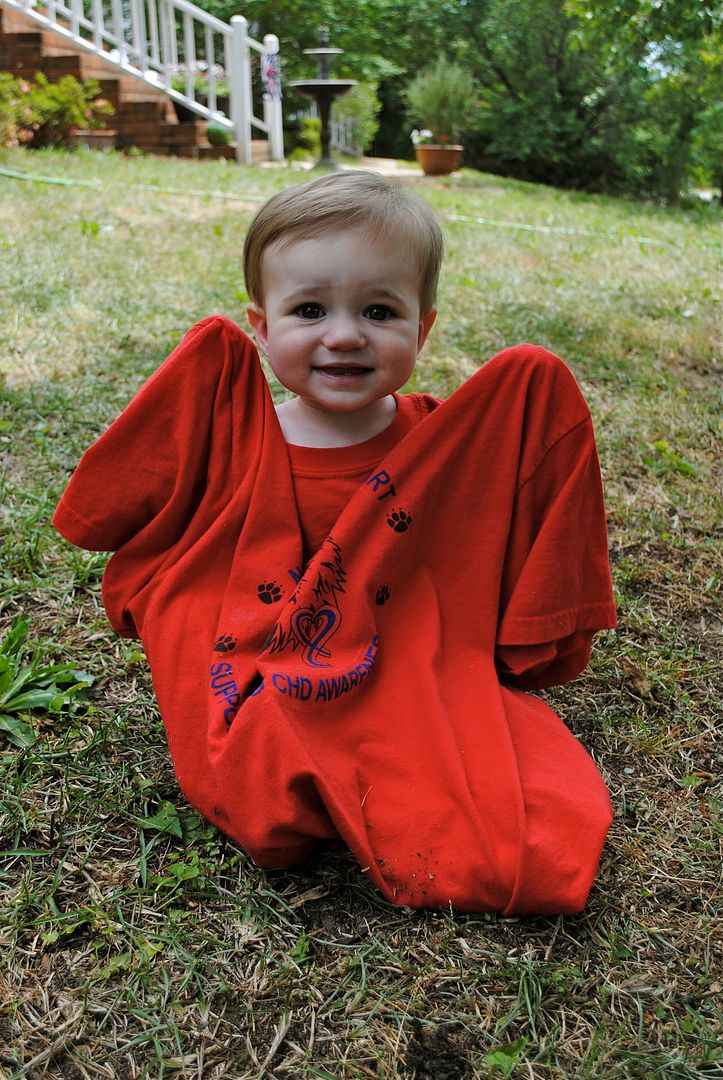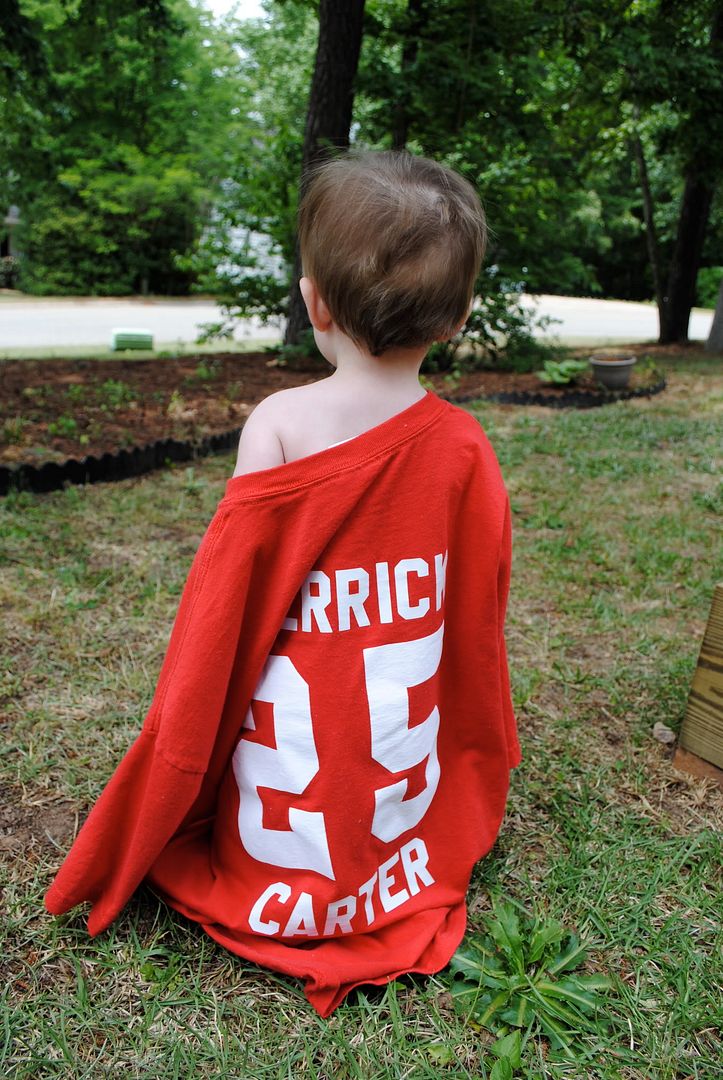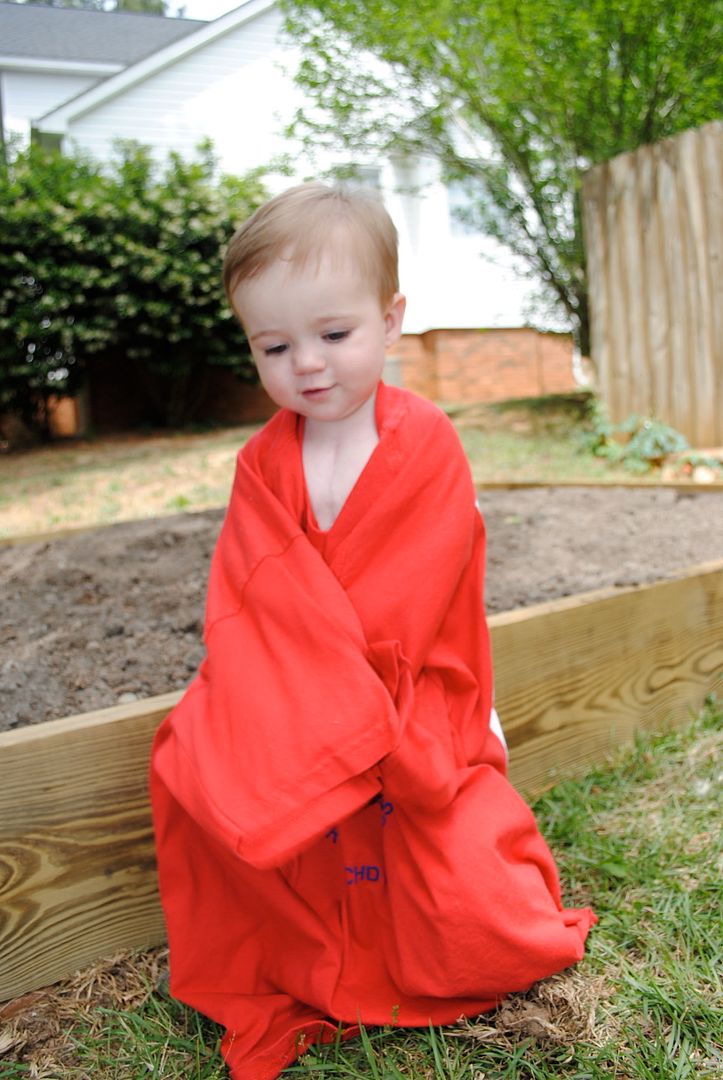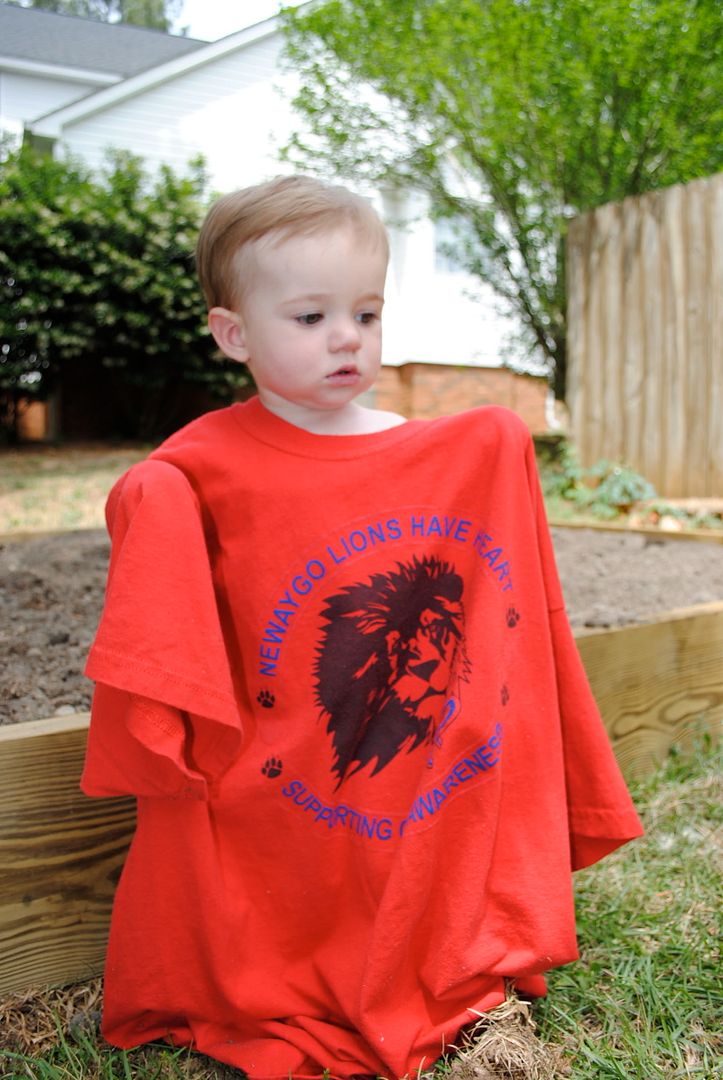 This year as part of their community service project, the Mid Carolina Middle School Beta Club chose to raise money for CHD research and collect goodies for the
BraveHEART Baskets
. My cousin Kerry is one of the Beta Club leaders and had shared D's story with the students, so they were pretty excited when she brought up the idea of helping with research funding. We went to one of their meetings and they presented us with a check for almost $300 for MUSC. I spoke to them for a minute (which I still can't do without getting emotional), then I lifted his shirt and showed them his scar. You could hear the breaths of surprise when they saw it.
I think it's difficult for people to imagine that kids (and adults) can look so normal on the outside, yet have such hidden secrets on the inside. I wanted them to see that CHD is real, and that they weren't just collecting money for some cause that they had no clue about. I hope all of MCMS, especially Kerry, knows how much we appreciate their support for our little man and all of the other heart kids out there. Thank you!!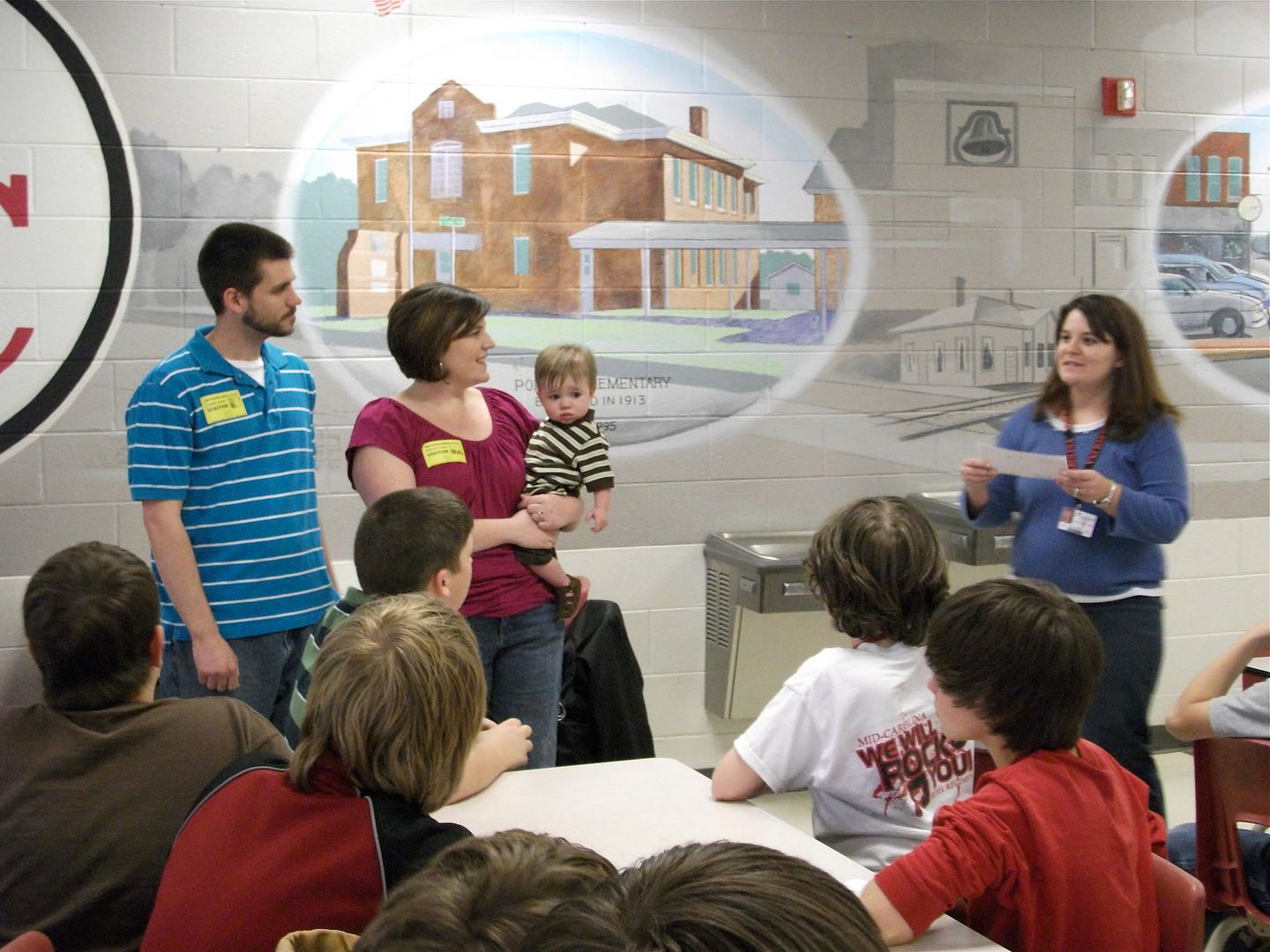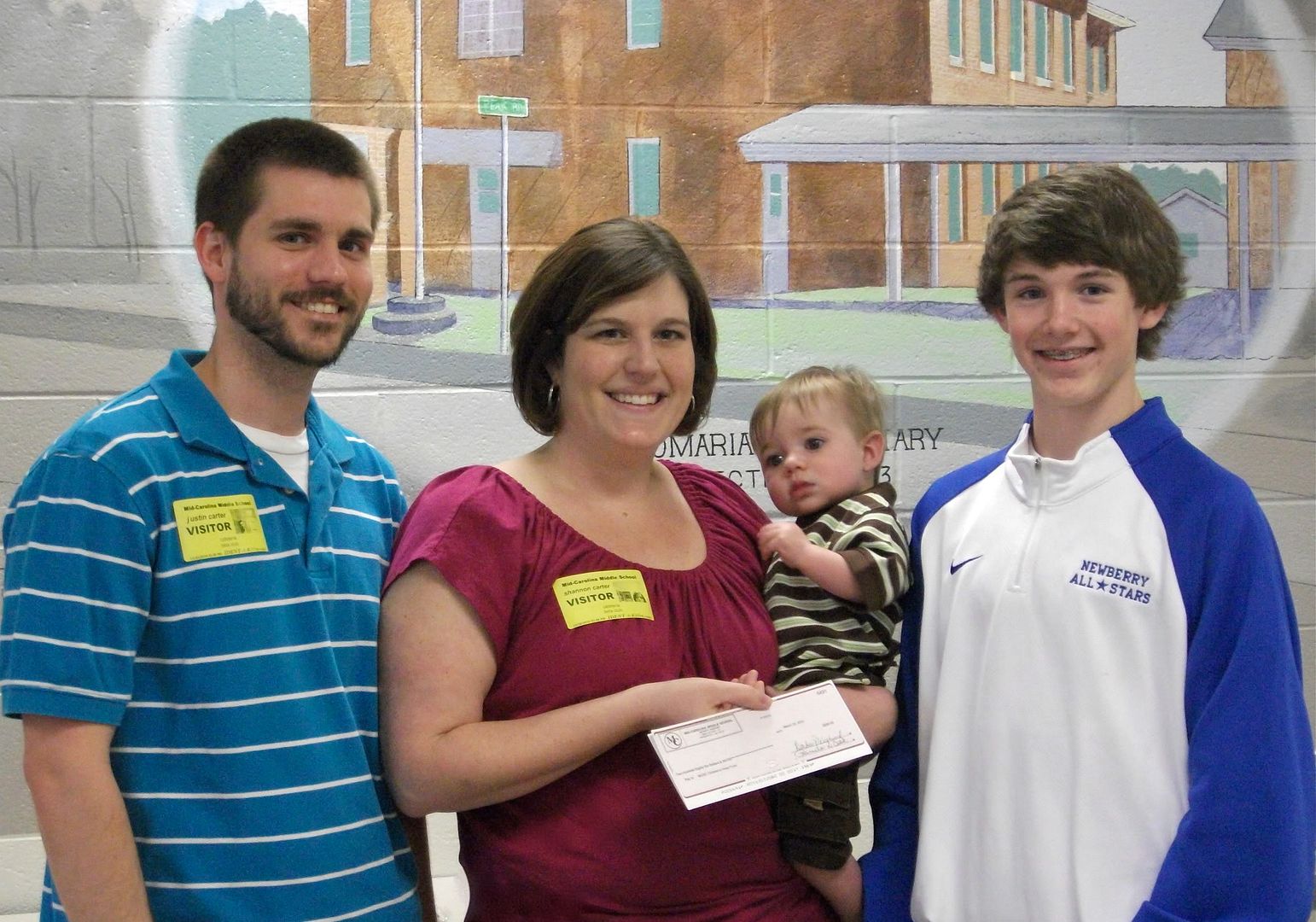 Finally (and LONG overdue)... I have to give a shout out to my wonderful friend Jen. She organized a team in New Jersey for an
It's My Heart
walk and raised over $1,300 in honor of Derrick! She and her boyfriend Omar put together a great website that you can check out for
Team Derrick
. Thanks guys!!! You're the BEST!
I guess I'm sharing all of this today because I wanted to tell you about Elizabeth. Justin met her at work and they found out they had a lot in common pretty quickly. It just so happens that Elizabeth is a 36 year old heart warrior who lives here in Columbia. She was born with transposition of the great arteries. She had a cath procedure when she was three days old to give her time to grow enough for her heart surgery 11 months later. Elizabeth did great until she reached her early twenties, when she developed heart failure.
As of right now, Elizabeth's most viable option is a heart transplant. There is another possible option for her which has not been FDA approved, and that is a ventricle assist device (VAD). Regular VADs are FDA approved, but because of her type of CHD, her doctor has appealed (for the third time) to the FDA to approve the left ventricle device with modifications for the right ventricle. It's all very complicated, but could buy her more time until a transplant would be her only option.
Elizabeth has been making trips to the University of Alabama at Birmingham and the Mayo Clinic in MN (which are both pretty far away from SC) every 2-3 weeks. She is a single mother to a 15 year old son, and struggles to maintain a normal life for him and herself as she travels this journey. To assist Elizabeth with travel and medical expenses there will be a breakfast at Fatz Cafe in Irmo (Broad River Road) on Saturday, May 22 from 7:30 until 10:30. If any of you locals are able, please come out and support Elizabeth while having pancakes and sausage! Those of you who came to ours remember how good it was. :) We'll be there...early!
Please keep Elizabeth (and don't forget about
Ruthie
!) in your prayers.
I better get going because somebody's waiting. And I thought I was busy before....Ha!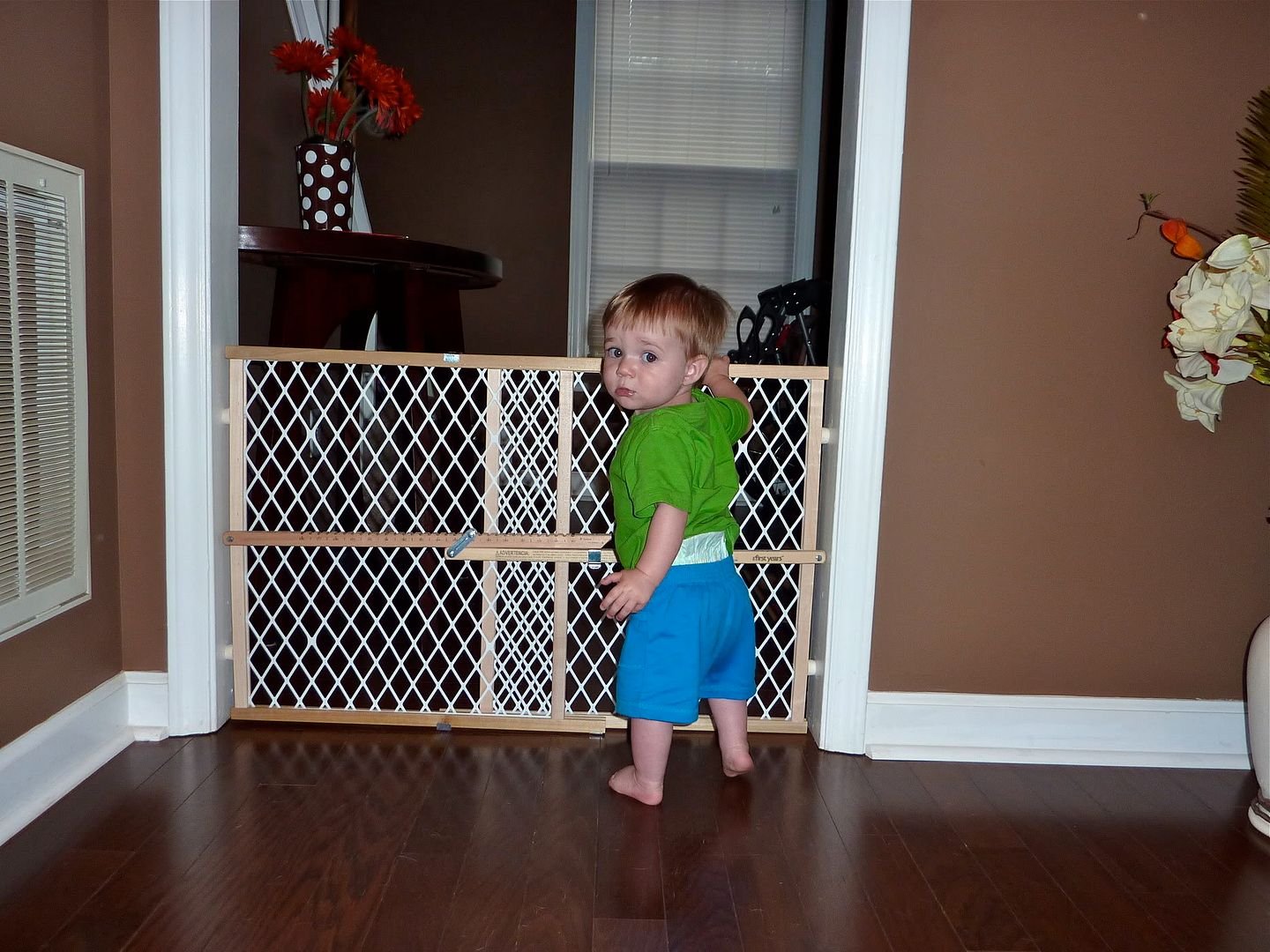 D has big news to share just in time for his 13 month update on Thursday. Any guesses??