Thank you all so much for all of the messages and emails you all sent us about D's procedure today. Every one of them mean so much to us and it brings us great comfort to know that everyone is praying for him...even when it is something small like he had done today.
While we were waiting to get started, D got to play in the big "cah."
All of the staff at the hospital this morning was so nice (and it was 6am)! We had a private room with toys so D could play while the nurses, urologist, and anesthesiologist came by to talk to us. When it came time for him to be taken back the nurse anesthetist was talking to him about his car, scooped him up and took him away. No meds, no tears! :)
He liked this "cah" so much that he thought he needed to "touch" it.
What a nice change to sit in a waiting room with no pager to wait for updates! About 25 minutes after we were told they had started, the doctor was calling us back to talk to us about the surgery and then we were taken back to see our man...who was NOT happy!
It was obvious he was in pain! The way he was squirming around crying broke. my. heart! D's vitals were monitored for a little while then he was moved to a recovery room and we were discharged and back home by 9:30!
While we were talking with the anesthesiologist before D went back, I asked him if he felt comfortable putting him under. He gave us a nervous laugh and said, "Ideally you don't have someone whose sats are in the 80's. That makes it a little more mentally taxing. " While that response could have been a little scary, we appreciated his honesty. He knew our man was high maintenance and that he had to be on top of his game!
Once Derrick was in recovery, the anesthesiologist came back to sign the papers for him to be discharged. The nurse made a comment about wondering why he hadn't already signed off on his paperwork, so apparently he didn't want D to leave without checking on him one more time. He came and spoke to us again and reassured us that he had tolerated everything very well. We were so impressed with him because of the time he took with us to calm our fears and make us feel comfortable. Not all doctors do that, especially specialists, and that really means a lot.
God has that perfect way of putting the right people in our lives at just the right moment. It wasn't the surgery itself that we were so worried about, it was D being put under general anesthesia away from MUSC, but He sent us just who we needed.
Now that we've been home for a few hours I'm pretty sure that the easy part is over! Oh my, oh my! Our little man is NOT a happy camper and I do not blame him! Honestly, at this point, I am regretting our decision of even having this done. He has had several diaper changes since we've been home and they have been torturous. For all three of us.
And Justin has to work for the next three days...what was I thinking scheduling this today? If we can make it through the next three days I think we'll be all right. But as of right now, I don't know what we've gotten ourselves and our poor little guy into!
Your prayers are still GREATLY appreciated!
Hopefully D can make it to his little friend's birthday party Saturday and we'll have some fun pictures to share. Be on the lookout Monday for something fun for you! :)
Thank you so much for your support for our sweet D! We love you guys!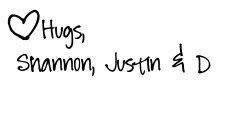 P.S. Happy birthday Mom/Nona!! We love you!!