The Saturday before Christmas we took the first donation check down to MUSC from Hope for BraveHEARTS. We were so excited to present Dr. Graham with a check for $7,500 for CHD research. We owe an enormous thank you to everyone who participated in the golf tournament, the breakfast in October, the bazaar at Christus Victor, and has sent in donations for Hope for BraveHEARTS. It is purely because of generous hearts that our first donation was such a success.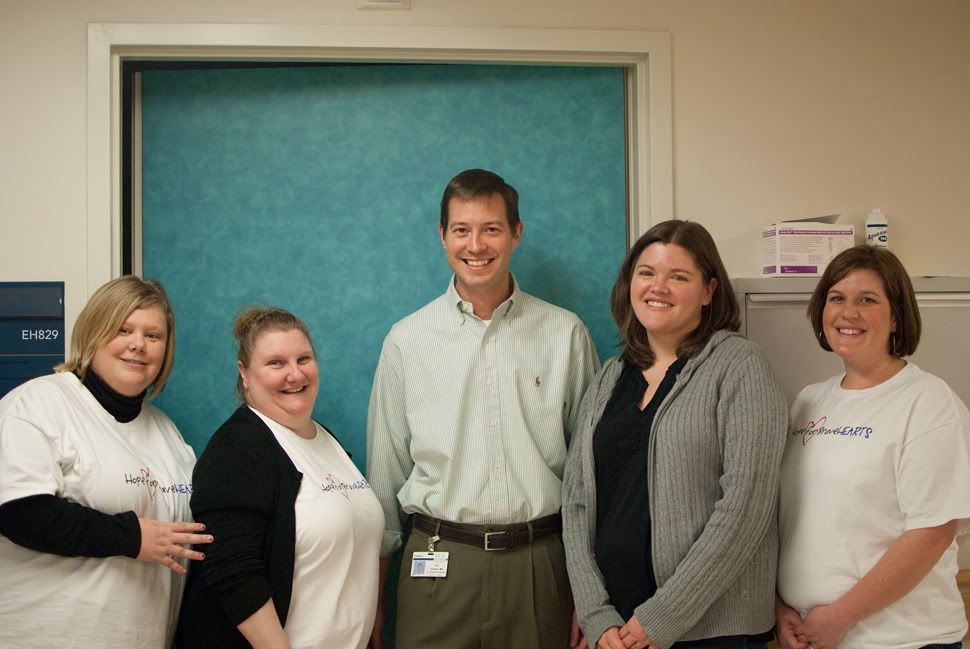 Elizabeth, Jess, Dr. Graham, Abbie & me
While we were at the hospital we took Christmas gifts to all of the pediatric cardiac patients and cookies to the nurses. We got to see the new step-down unit and have a quick visit with some of our favorite doctors and nurses. It's always nice to visit the hospital when you're there only for a visit. :)
The other big item on our agenda that day was the Ronald McDonald House.
I don't know if you've ever stayed at the RMH before, but until we stayed there after Derrick was born we had no idea what an amazing place it is! You could literally stay at the RMH and eat every meal, take every shower, and sleep every night (in a sleep number bed, I might add) for only $10 a day. And if you can't pay your bill when you leave, you just leave. There's no big X on your credit, there are no harassing phone calls telling you that you owe them money. Nothing. They ask that you remember them when your luck is better or to pay when/if you can. Their main concern is that you focus on your sick child, and nothing else.
Several Texas Roadhouse staff met us at the RMH to help out with some chores and to serve dinner. They brought ribs, barbecue chicken, mashed potatoes, green beans, those melt-in-your-mouth Texas Roadhouse rolls with cinnamon butter...mmmm, and sweet tea. There was quite a crowd for dinner (way more than any of us remembered while we stayed there) and they sat around and chatted when they were finished with their meal. It was such a homey feeling. And maybe, just for a small second, it seemed that they could forget where they were and why they were there, and really enjoy themselves.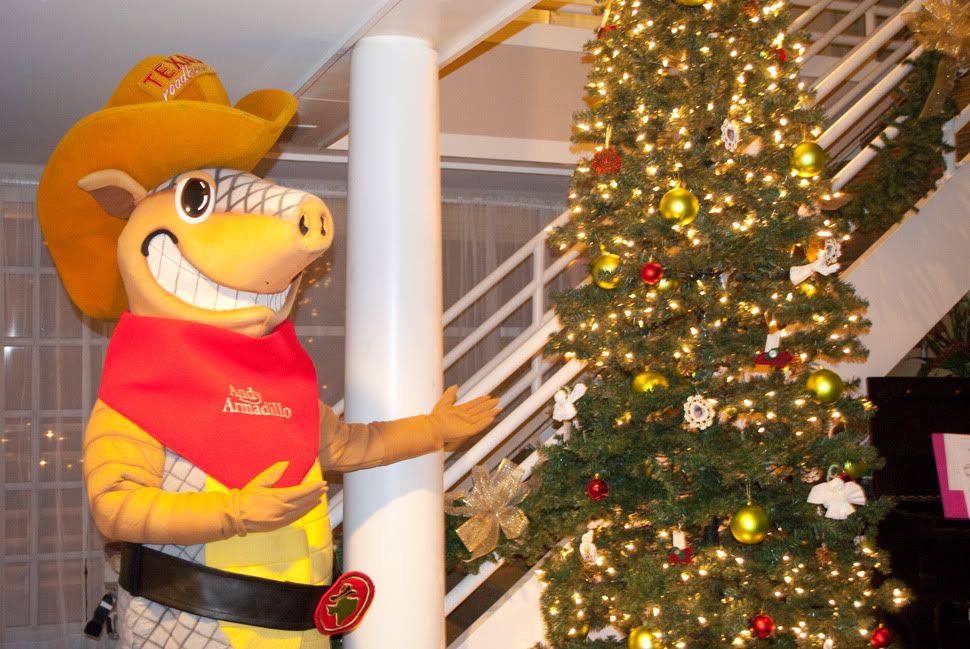 Andy the Armadillo even came along to visit the kids who were staying at the RMH.
Hope for BraveHEARTS has a jam packed year planned with some things you don't want to miss! We have our second annual Fatz Cafe pancake breakfast scheduled during CHD Awareness Week. The really exciting part about that is that this year there will be TWO breakfasts! One in Irmo on Saturday, February 5 and one in Easley on Saturday, February 12. If you can attend either of those breakfasts, we would love to have you there!
Tickets are $7 and kids 4 and under eat free. We'll be serving pancakes, sausage and fruit from 7:30am until 10:30am. We're looking for people to come eat, to help serve, and to help sell tickets. We would love to have to work our fannies off because so many people come out to eat! Please leave a comment or email me if you're interested in helping in any way. (carolinacarters@gmail.com)
We will be collecting recipes until January 25, so if you have been meaning to send those in there's still time. I have SO enjoyed getting recipes everyday in my inbox. I've tried many of them out already and let me tell you, the cookbook will be well worth it when it comes out! Be on the lookout for it to be available to order at the beginning of February.
Also we have a fun contest for CHD kids and brothers/sisters/cousins/friends of CHDers to design the new HBH t-shirts. Check out our website for the details.
Thank you all so much for all of your support. Knowing that there is a huge group of people out there willing to support a cause like CHD research gives so much hope to those of us who look at those little zippered chests every day and wonder...